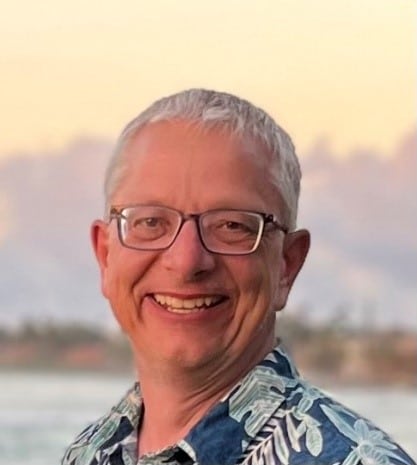 July 30, 1968 – November 12, 2023 
It is with profound sadness that we say goodbye to Ron Popiel, loving husband to Susan and amazing dad to Natalie and Kate, after a lengthy battle with cancer.
Ron was born in Pine Falls, Manitoba and raised in Powerview where he embraced his small-town upbringing that taught him the importance of community and relationships through his active youth, participating in hockey, baseball, church and simply having fun with his friends.
After graduation, he moved to Winnipeg to pursue an education that resulted in a career that he truly loved in the hospitality industry. Ron's strong sense of customer service and caring for his guests was reflected in the passion and dedication he showed to ensure the best experience possible for his guests. Each hotel and senior's residence he worked at was like a second home for him and he took pride in working with and building great teams. After managing a senior's care residence for over eight years, Ron finished his career as General Manager at the Hyatt House Hotel, where he truly felt he had found his new "home".
Ron lived a life helping those around him. He showed his love every day with the beautiful acts of kindness he so readily shared with others. Ron was known to family and friends as the "The World's Greatest Host". He never passed up an opportunity to host dinners, BBQs and family gatherings. He loved to spend his time at home cooking for his family and friends. Morning pancakes were always available, any day of the week for his daughters or anyone who happened to be there for breakfast. We know his famous ribs and shortbread cookies at Christmas will be missed by many.
Most would agree that family and fatherhood were the most important thing to Ron. His girls were his pride and joy. He loved supporting them at school as part of the parent counsel and ensuring they had opportunities in activities they wanted to pursue like gymnastics, choir, piano, musical theatre, dancing and curling.
Both Ron and Susan believed that travel provided the best learning experiences for their daughters, and they dedicated precious vacation time to allowing them to see the world. Ron was a travel bug after meeting Susan, and he said he would never regret the decisions they made to travel, as they provided such wonderful experiences and memories that his family could share for a lifetime. His true happy place was Hawaii, where he felt he could really unwind and rejuvenate.
Ron loved spending time with his family and making his home a beautiful place. He enjoyed landscaping and maintaining his home, putzing around and riding the quads on his parent's farm near Beausejour or relaxing on the patio and playing a round of golf with his in-laws in Minnedosa.
His nieces and nephews were all close to him and have fond memories of hanging out with their uncle at the farm, playing Mario Kart, eating Uncle Ron's pancakes, attending Blue Bomber games, golfing, and vacationing together.
On a recent video call with his childhood friends, Ron reminded them that it's about the memories you make, not the things that you acquire in life that really matter in the end. Ron truly lived to make memories with the people he loved.
Ron was pre-deceased by his father, Joe. He has left to cherish his memory, his wife of 23 years, Susan; their two daughters, Natalie and Kate; Mother Doris; Mother-in-Law and Father-in-Law, Ray and Darlene Bright; Sister, Cheryl Janz (Mike); Sister-in-Law, Janet Bright Corne (Ian); Brother-in-law, Ken Bright (Karie); his nieces and nephews Sadie and Hugh Corne, Brady, Paige and Meagan Janz; special Aunt, Carol Holyk and many relatives.
The family would like to thank all the doctors, nurses and healthcare staff who cared for Ron through his illness and a very special thanks to Dr. Beshara, Karen and the wonderful nurses and support staff at the Buhler Cancer Centre at Victoria General Hospital who always made his treatments just a little bit easier with their kindness, smiles, and genuine care.
Funeral services will be held at Mary Mother of the Church, 85 Kirkbridge Dr., Winnipeg, MB on Tuesday, November 21, 2023, at 1:00 pm with reception to follow off-site.
Interment will follow at a later date in Minnedosa.
In lieu of flowers, a donation to Cancer Care Manitoba or the charity of your choice would be appreciated.