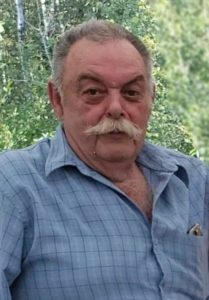 August 10, 1949 – July 30, 2020
With heavy hearts our family would like to announce the sudden passing of Neill Sr.
Neill was survived by his loving and devoted Wife Karen of 51 years, his 3 Children Sheryl (Conrad), Neill (Martha) and Lee-Ann, his 13 Grandchildren and 8 Great Grandchildren, 4 Brothers David (Cindy) Wayne, Melvin (Corinne) and Craig and 2 Sisters Janice (Leroy) and Sharon. Neill was predeceased by his Parents James and Helen, his Brother Ron, his Daughter Brenda and Son in law Marcel and Great Grandson Baby Kylen.
Neill loved to entertain in his garage, sitting in his chair, A shot of 83 with coke no ice in moderation of course. In the winter he always made sure the wood stove was burning and always had plenty of wood to keep the garage warm.
He was known by his nickname "Whiskey" out at the Back 40, which is what he called his little piece of land.
Neill was known as the guy who had a tool for everything, if there was anything you needed he was your man.
He loved visits from family and friends and just popping in on them as well. If the grandchildren phoned for a ride or needed a hand with something he was there and never without a treat for the little ones.
Tunes in the garage on sunday was a must, he always had a seat if you showed up.
If you didnt find him doubling up at the casino you would find him shopping for sales on flyer day and he always had his loaf of city rye bread in the cart.
Neill will be missed by many
Goodbye was never said, until we meet again…
Yup Yup
In leui of flowers donations can be made to the Wish foundation or Ronald McDonald house charity