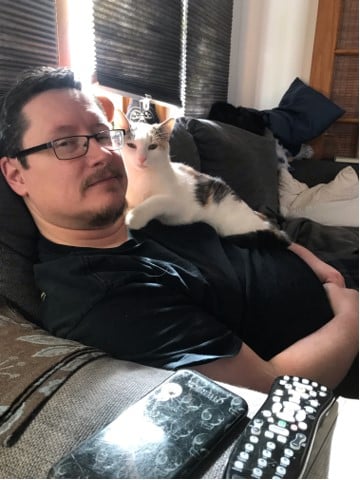 29 July, 1971 – 13 December, 2022 
It is with deep sadness that we announce the passing of our beloved husband, father, son, and brother on December 13, at St. Boniface Hospital, after suffering a cardiac arrest at home on the evening of December 4.
Left to celebrate his memory are his wife Mellanie; son Joshua; step-children Evan, Joel Skrabek, Trinity (Dustin), Ethan Rushton; mother Penni and stepfather Cas Churko; stepmother Cheryl Oliver; uncle Paul Renaud (Petra); brothers Bryan Churko, Mike Oliver (Toni) Oliver; nieces Tamara (Raven), Hayley, Ashley, as well as his many friends in the community and at the Canada Revenue Agency, where he worked for over twenty years.
Mark is predeceased by his father Rex Oliver; father-in-law Franz-Arno Lawrenz; cousin Roger Churko, and best friend Corey Gonske, so we know he'll be in good company until we meet again.
Mark was never happier than when he was doing something to help his family and friends. He was an excellent cook, did a spot-on Donald Duck impression, could make up the most hilarious songs while puttering around the house or yard, and though he'd never have admitted it, was a talented singer.
Mark came to fatherhood late in his life and was a besotted, devoted dad, and gloried in his daily adventures with his beloved Joshua, truly cherishing every poopy diaper and load of laundry, every grocery shopping trip, every school engagement, every bedtime story.
We wish to thank the doctors and nurses in the ACCU at St. Boniface hospital. They did more than care for him, they loved him, and did everything they could to get him home to us, and when it became apparent that that wouldn't happen, they wrapped him in love for the last days of his life, and treated us like family.
All our thanks as well to the numerous friends and neighbours whose help we've relied on over the past difficult weeks, but especial thanks to Anny Chen, without whom this ordeal could not have been borne, and Paul and Darlene from the Spiritual Care Team at St. B, whose strength held us up at the end. Chocolate is also medicine.
While it is difficult to accept that we won't get to experience Mark turn into the epic grumpy old man that we knew he would have been, we take comfort in the fact that he was an organ donor, and his last gift has changed the lives of two Manitoba families.
A celebration of Mark's life will take place in the summer. Mark wanted a traditional Viking funeral, and while it's going to be hard to find an eight-legged horse in Winnipeg, we will endeavour to honour his wishes in a way that won't get us fined or arrested.
In lieu of flowers, charitable donations can be made to Trees Winnipeg, a cause that Mellanie has worked with for a number of years and that Mark was always happy to support.