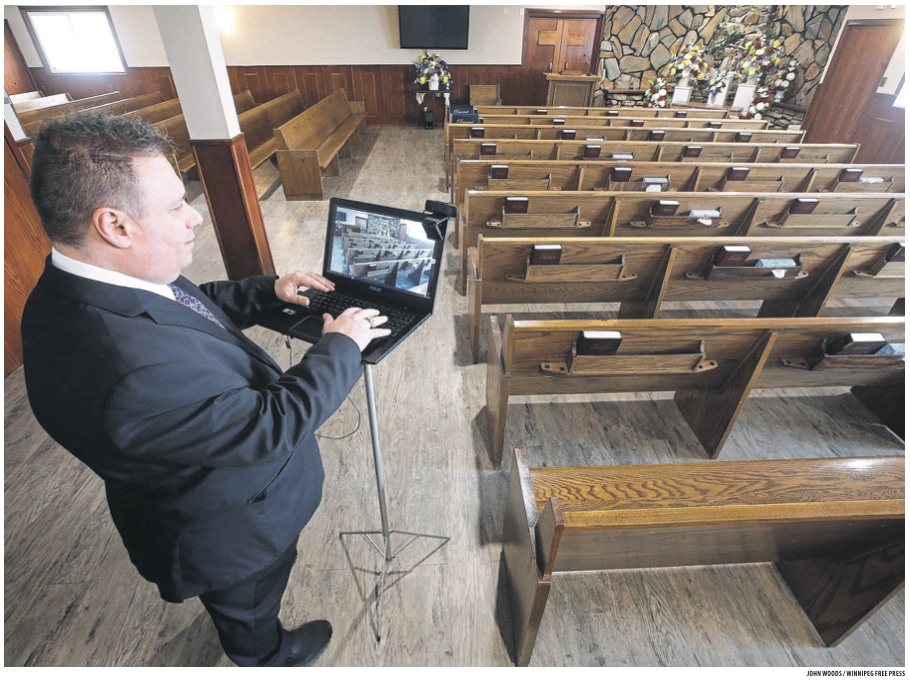 Written by Brenda Suderman of the Winnipeg Free Press
In this era of social distancing, faith communities are bringing centuries- old rituals related to death into the 21st century, and limiting personal contact even though community support is an important part of grieving. 
High-tech solutions such as livestreaming funerals and FaceTime family visits allow mourners to pay their respects and offer condolences while respecting protocols that prohibit large gatherings. 
With that in mind, the family of the man immortalized on the big screen as the iconic Gus Portokalos decided to share his final farewells on small screens across the globe. 
A private family funeral for Constantine (Gus) Nicholas Vardalos will be livestreamed from St. Demetrios Greek Orthodox Church at 11 a.m. today to minimize contact and comply with provincial guidelines that dis- courage large public gatherings. 
"After careful consideration regard- ing the new COVID-19 crisis, and in the interest of the community's health, the family has decided to postpone 
a memorial service to a later date to be announced," the family wrote in Vardalos's obituary. He died March 12 at the age of 87. 
Vardalos is the father of actor, screenwriter and producer Nia Vardalos, best known for her 2002 hit movie My Big Fat Greek Wedding, based on her own wedding in Winnipeg. Gus Vardalos was portrayed onscreen by actor Michael Constantine. 
Livestreaming offers mourners a chance to participate at a time when health protocols don't allow large groups to congregate, said Mike Vogiatzakis of Voyage Funeral Homes, which is livestreaming Vardalos's funeral. 
"It probably would have been a massive funeral, so people can watch it live and it will also be on YouTube later," he said. 
Livestreaming will be offered to all families arranging funerals right now, he said. 
Between social distancing and no gatherings of more than 50 people, Jewish customs related to death and grieving have been scaled back to include only family members, said Rena Boroditsky, executive director of Jewish funeral home Chesed Shel Emes. 
"We are recommending graveside services with the immediate family only and not having a (community) meal," she said. 
Instead of shiva visits to the grieving family, Boroditsky suggests using email, FaceTime and the telephone to express condolences, and conducting prayer services virtually.
"All of our burial and funeral and mourning rituals are based in community," she said. "It certainly will impact all of those rituals but it doesn't mean we can't do all we can. 
"We still honour all the essential parts of the ritual." 
Muslims also gather for community prayers after a death, but with local mosques closed, those prayers will take place graveside or at the funeral home, said Idris Elbakri, board chair- man of the Manitoba Islamic Association. 
"Unfortunately, (the funerals) are going to become very minimal," he said. 
If possible, Jews and Muslims bury bodies within 24 hours of death. Neither tradition embalms bodies but washes and prepares them according to specific rituals. 
Anglicans are encouraged to post- pone memorial services for family members or hold small services with only the priest and immediate family attending, said Bishop Geoffrey Woodcroft of the Diocese of Rupert's Land. 
"We're not touching caskets, we're hands off, but we'll perform the ceremony," he said.