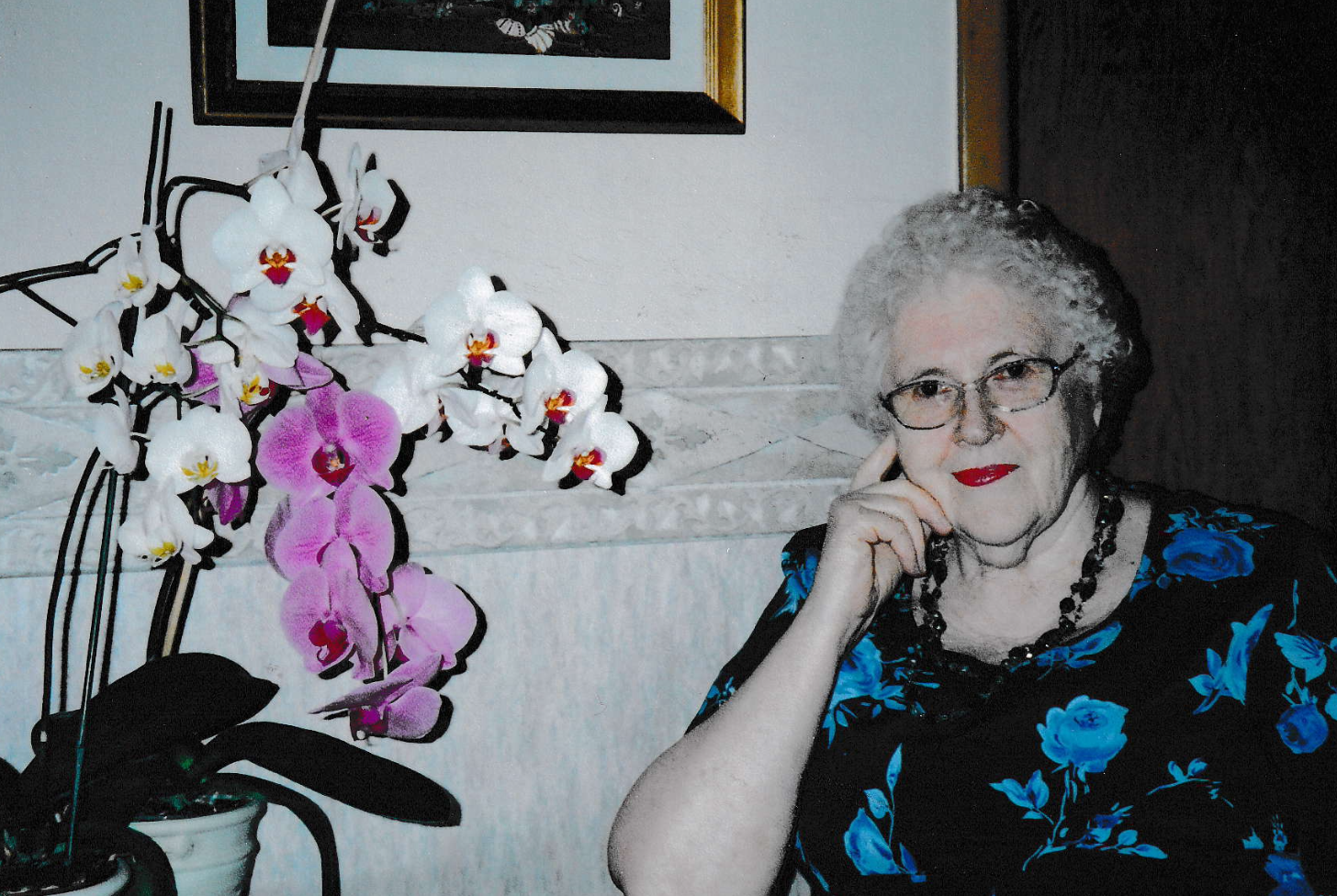 November 7, 1927 – March 26, 2023 
Zigrida Betija Andrechuk of Winnipeg, Manitoba, passed away on Sunday, March 26, 2023 at the age of 95.
She was born in Riga, Latvia, November 7, 1927.
She was a daughter of Bruno and Elfrieda (Kakovics) Postnieks.
She was predeceased by her parents, her husband Harry Andrechuk, a sister Inta and a brother Gunnar.
She is survived by a sister Helga Farnell ; a brother Peter Postnieks; a sister-in-law, Eva Andrechuk; several nieces and nephews. Her nieces Gail, Ingrid, Debbie, Brenda and Heather were especially close to Zigrida and provided her with much assistance as she got older.
Growing up in Latvia, Zigrida had a happy early family life and was especially close to her father. As a young girl, Zigrida learned to appreciate ballet, opera and concerts. She had a lifelong love of music.
While her home life was pleasant, Latvia faced turbulent times in the years leading up to the Second World War. Zigrida often said she survived the brutal regime of the Russians and later the invasion of Latvia by the Germans. Her beloved father was executed by the Russians and the family businesses and properties were seized by the invading armies.
After high school, Zigrida studied nursing. Conditions were difficult in Latvia and she vividly recalled once trading two weeks of her nursing pay for two fresh farm eggs, a delicacy. Her nursing abilities enabled her to leave Latvia and sail to Canada aboard a hospital ship. Her work life was spent in that profession.
The hardships she experienced during her formative years in Latvia built her strength of character, her determined personality and the quality of courage which only grew stronger over the years. Although Zigrida could sometimes be an imposing figure, she had a healthy sense of humor and always faced critical times with a positive outlook.
She immigrated to Canada in January of 1948, settling in Winnipeg where that same year she met her husband Harry. They were married June 26, 1948.
After their honeymoon in Ontario, the couple took up farming in the Municipality of Macdonald.
Before her marriage, Zigrida decided to investigate her husband's faith. She quickly discovered that the Bible-based teachings of Jehovah's Witnesses appealed to her and she was baptized as one of Jehovah's Witnesses in 1949 in Sherbrooke Pool in Winnipeg.
She was an adept volunteer teacher for 74 years and helped many of her students gain an accurate knowledge of the Bible. Zigrida shared her faith by any means she could and she was one of the pioneers of giving her Bible message to strangers over the telephone, along with writing letters, making personal visits and conducting home Bible studies. Her personal interest in people drew them to her. When she contacted a couple who were taking their dog to the veterinarian and couldn't talk with her that day, she phoned them back just to check on how their pet was doing and this generated a Bible discussion that reactivated the couples' faith.
She and her husband Harry moved to Fort Garry and bought a house on Radisson Avenue. Their home was filled with good friends and the smell of delicious cooking especially when she was creating one of her famous turkey dinners.
Zigrida loved flowers and tending her small vegetable garden on Radisson Avenue. Even when she had to downsize to an apartment, Zigrida's balcony was always filled with potted tomatoes, string beans and zucchini plants. A vase on her table always held her favorite mini-carnations or an orchid plant.
She and Harry enjoyed traveling to Bible conventions and attended international gatherings in New York in 1958 and Vancouver in 1969. She volunteered at such events sometimes working in first aid and other times cooking and serving meals at a time when Jehovah's Witnesses had mobile cafeterias for convention delegates.
When she lost her eyesight to macular degeneration, Zigrida resolved not to slow down her spiritual routine and she would listen to audio recordings of the Bible and other publications. She faithfully attended her congregation meetings via the telephone and she maintained a routine of preaching to all who would listen.
Zigrida had a strong hope in the Bible's teaching of a future resurrection and looked forward to the promise at Revelation 21:3, 4 that the day will come when death, mourning and pain will be done away with in a restored paradise earth.
The family wishes to thank the staff of Beacon Hill Lodge Long Term Care Home for their compassionate care of Zigrida.
Voyage Funeral Home and Crematorium, 220 Hespeler Ave.,Winnipeg, is in charge of arrangements. It was Zigrida's wish to be cremated. Interment will take place at a later date in Andrechuk Cemetery, St. Norbert. A memorial service will also be held at a later date.