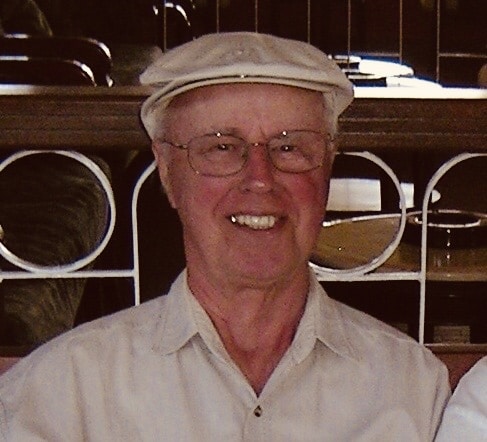 February 11, 1930 to March 6, 2021
With much sadness we share the passing of Alistair Riddell, age 91 in Riverview Palliative Care Unit. He was the loving husband of 59 years to Helen Riddell (nee Rowley), brother to Myra Wilkie (John), father to Heather (Ken), Craig and Jennifer (Perry) as well as Grandpa to Stephen (Morgan), Christina (Daniel), Katie, Emma, and Callum. He will be fondly remembered by extend family as well.
Alistair was born in Glasgow, Scotland on February 11, 1930. In 1937, his father's work with Lloyds Register of Shipping took the family to Kobe, Japan and Alistair celebrated his 7th birthday aboard ship. Due to the growing likelihood of war the Pacific in January 1941 they leftJapan and his family was sent to Vancouver. From there they moved to Montreal where they remained until the end of the war. They then returned back to Scotland in the fallof 1945. This meant that by age 15 he had circumnavigated the globe. Alistair completed high school and went on to take Naval Engineering at the University of Glasgow. During his University years he remained in Scotland while his family moved back to Montreal. Later he worked as a Junior Engineer aboard ship for 2 years with the National Service Armed Forces. After deciding that engineering was not his passion he moved back to Canada to be with his family and entered McGill University to study theology.
It was through a friend Jim Rowley at Young People's group, that Alistair was introduced to his younger sister Helen. Two years later in June of 1961 Helen and Alistair were married at St. Anne-de-Bellevue United Church. He went on to graduate from McGill United Theological College and was ordained into the United Church of Canada in June 1962. Alistair took the call to a 33 plus year career in Ministry, spent entirely in southern Manitoba. His first call was to a three-point charge in the small towns of Elgin, Regent, and Fairfax where he served for 5 years. During this time, Heather and Craig were born in nearby Souris. In 1967 Alistair took the call to serve the three-point charge of Killarney, Lena, and Roland. Over the next 14 years they lived in Killarney and added Jennifer to thefamily. In 1981 the family moved to Morden and resided there until 1990. Rivers was his final pastoral charge, and after 5 years Alistair and Helen retired to Winnipeg and joined the congregation of Regent's Park now St. Mary's Road United Church. He continued to do ministerial supply work in various communities in Southwestern Manitoba as well as participating in several committees in and outside the church serving communities locally and abroad.
Our family enjoys happy memories of summer holidays camping together; with trips from Vancouver Island all the way to P.E.I. Often travelling to Montreal and Ottawa to visit parents, sister and family, along with other relatives. Favourite family spots to camp continue to be Pancake Bay, Rushing River, and Nutimik Lake. Following their retirement, Alistair spent his Monday mornings enjoying curling with the Chaplin's Curling League and treasured the camaraderie and competition with fellow retired colleagues. Alistair and Helen enjoyed the good fortune to travel across Canada and abroad. They had many interesting adventures and misadventures along the way, leaving them with numerous good stories to share with family and friends. They also enjoyed the benefits of living in Winnipeg, which meant they could take in Manitoba Theatre Centre plays and Winnipeg Symphony Orchestra concerts.
Alistair had a gentle nature and a good sense of humour. He will be well remembered for his quiet, thoughtful and compassionate manner, sharing his perspective, offering ministry, and living with integrity.
Our family has been blessed with so many kind gestures, thoughts and prayers of family and friends. We thank youfor all your love and support. In lieu of flowers, we ask that any donations be made to Riverview Palliative Care Unit, St. Mary's Road United Church or to the charity of your own choosing.
Due to Covid-19 restrictions a small family memorial service is planned. A recording will be available online at a later date.