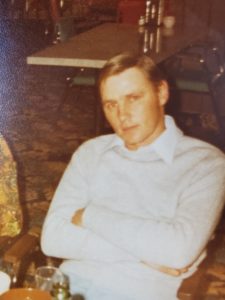 December 21, 1948 – March 22, 2020
It is with great sadness and heavy hearts that the family of Peter Andreychuk announce his sudden passing at his home in the afternoon on March 22, 2020.
Left to cherish Peter's memory are his beloved wife Joan and their cat Whiskers, along with his children Sheila (Jason), Bob (Cindy), Pam (Adam); and their mother Helen. His grandchildren Brandon, Brianna, Nathan and Ember will all carry on his legacy. Also left to cherish his memory are his sister Elsie Picklyk (Eugene) as well numerous nieces and nephews and many friends. Peter was predeceased by his parents Annie and Michael as well as his brothers Johnny and Bill.
Peter was born in Vita, Manitoba. This is where his passion for living his life to the fullest began. Peter loved country life and appreciated being in nature and everything that lived within it. He enjoyed his years in Vita and was always willing to give back to the community who gave him so much. Peter loved to entertain family and friends and always made the most of creating memories. He even made cutting the grass and keeping the cemetery immaculate at Sopiwnyk's Church a fun filled afternoon. Peter always packed lunch for everyone involved and created laughter the entire time.
Peter enjoyed many years of baseball with the creation of the ZVC (Zhoda, Vita, Caliento) Dodgers Baseball team. Peter acquired this passion of baseball in his early 20's and was one of the finest and wittiest back catchers in the league. His humour was enjoyed by many and umpires always enjoyed their time behind the plate when Peter was catching.
Peter was an artist, painting and carving wildlife was something that brought him much joy. Bringing him to become a member of Ducks Unlimited, were he proudly entered his carvings into competitions and attended many functions.
Peter gave 34 years to CN and enjoyed the comradeship of the people he worked with.  After retirement, he went to the RedRiverAirBrake where he met up with his life long friends.
After Peter's working career was over, he started to enjoy his retirement embracing routines. He filled his days with projects, chopping vegetables for his favourite homemade chicken noodle soup, read his newspaper from front to back, exercised, enjoyed his cup of tea and listened to Judge Judy every single day. And to finish the evening, he shared his cheese with his cat Whiskers.
Even with Peter's being a double amputee, he always kept a positive attitude. He would sing, joke and be thankful for all that he had. Some would have been angry for the hardships but Peter proved what could be achieved when you have the passion for life. He taught many valuable lessons and we have no doubt that the stories and achievements of Peter will be discussed for many years.
Cremation has taken place and a celebration of life will be held at a later date.
In lieu of flowers, the family asks that you make a donation of your choice to either the Winnipeg Humane Society or Diabetes Canada.
"Love you always and forever in our hearts."