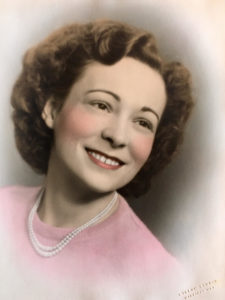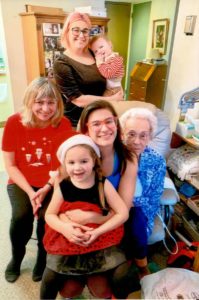 Peacefully, on June 17, 2020, after a long life, with no regrets, and with family by her side Marcelle passed away.
Born in St. Boniface to Sophronie and Osman Desorcy, Marcelle grew up on the family farm in Lorette, MB. In 1945 she graduated from the Misericordia Hospital as a registered nurse, and her work there for many years, on various wards brought her joy and purpose. She married Dr. Armand Laurin and they resided in St. Boniface where they raised their family, Guy and Charlotte (Lambert).
Marcelle was an outstanding calligrapher, and she always wanted to be up on current events; her beloved radio and her iPad were always close at hand. She also enjoyed travelling throughout Europe and Canada.
Marcelle was thrilled to welcome two granddaughters; Elianne (Dan Kein) and Natalie (Jacques Labrie) and two step-grandchildren (Wade and Kerri Brennan, children of Jo Anne Denis). Marcelle was an important influence in her granddaughter's lives and they grew to be very close. Marcelle loved her two grandsons-in law, Daniel and Jacques, and was grateful for all they did for the family. The addition of two great-grandchildren, Elah and Linden, brought Mémère Marcelle great joy; she loved their weekly visits.
Marcelle was predeceased by her parents and her husband, as well as many siblings: Marie Ange (Dansereau), Joe, Rose, Baby Guy, Marcien, Baby Marie, Baby Charles, Monseigneur Charles Desorcy, Baby Eva, and Raphael. Marcelle was an amazing caregiver to her siblings when they became ill. She is survived by her sister Thérèse (Romeo Manaigre).
Marcelle specifically requested that special thanks go out to: her loving and supportive family, nieces and nephews; Tom Hammond, her friend, helper and driver; Bernard Lambert for his kindness to her; Dr. P. Mehta and Dr. Tangri for their good care; Valerie, who was always with her when Marcelle was caring for her siblings near the ends of their lives; and to Diane Dorge for her many hugs and smiles when they would run into each other at the Acceuil Colombien.
The family wishes to acknowledge the wonderful care that mom received at Concordia Urgent Care and the N1 South ward. Special thanks to Chaplain Lori Jorgensen for her many visits with Marcelle.
Au revoir Mémère Marcelle. On se souviendra toujours de ta beauté, ton sourire, ton humeur et ta gentillesse envers tout le monde.
Cremation has taken place. According to Marcelle's wishes, a private family ceremony will be held at a later date when COVID-19 travel restrictions are eased. In lieu of flowers, please do a kindness for another, in honour of our beloved Marcelle.