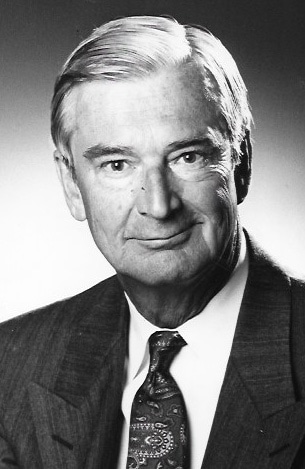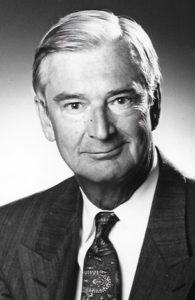 Kevin Kavanagh was a leader in business and philanthropy, a man of faith and intellect, but most especially of family. He was a man for others.
Born in Brandon in 1932, Kevin left at 17 years old to join the Royal Canadian Naval reserve and to begin his commerce degree at the University of Manitoba.
His naval days left a wake of memories, including two sails to Alaska and Hawaii and he kept his connections to HMCS Chippawa for many decades after his service.
From university, he began a long and distinguished career at Great-West Life in 1953 as a Group Representative. In 1979, he was appointed President and CEO. He served as a member of the Board of Directors of Great-West Life and Great-West Lifeco from 1978 until 2009.
To say Kevin brought enormous passion, focus, and dedication to the company would be a significant understatement. He was so interested in the insurance business that just last week he was in the process of creating a new Group product. Thinking of how insurance could be of benefit to clients and the company was his endless fascination!
His unrelenting drive was tempered by a concern for people. Our family has often been stopped by people with an anecdote of Kevin's kindness or simple genuine interest in their well-being.
He was an intense listener. He lived by a simple mantra of "Listen, ask questions, then talk".
He believed very strongly in the importance of building a better community both nationally and locally. He served on the numerous boards including the Conference of Board of Canada, National Leasing Group, Manitoba Business Council, Banff Centre for Arts, and The Royal Winnipeg Ballet.
Through his wife Els's passion for the arts, he became to appreciate both the artists and the art of the symphony and the ballet. But true to his prairie roots, he also loved to go to the Jets games.
Although he had many interests, education was Kevin's consistent focus. He demonstrated this as the Asper School of Business Executive in Residence, as Chancellor of Brandon University, as member of the Roblin Commission on post-secondary education, as strong supporter for St. Paul's High School and College, and recently his interest in Gonzaga Middle School in Point Douglas. Kevin believed good education was the solution to many problems.
He received the Degree of Doctor of Laws, honoris causa from the University of Manitoba, the Order of Canada and the Order of Manitoba.
For all of his many successes, it was his nearly 60 years of marriage to Els which he valued most. Together they were a force of nature. The way they looked at each other was simply the definition of love and left anyone around them in awe. They teased each other relentlessly, travelled together valiantly and held conversations constantly – from the sublime to the ridiculous!
Most of all, Kevin and Els cherish their children, Sean and Jennifer and their grandsons, Will and John. Family gatherings at the lake were legendary with lively discussions and debates on every imaginable topic. To his family, he was our role model, cheerleader, and friend. He always had time to listen to our challenges and our victories. Our problems were his. He would often say, I don't know necessarily what to say but I am here for you.
Kevin is survived by his wife, Els; his son Sean (Melissa Ridgen); his daughter Jennifer Moncrieff (Hugh Moncrieff); grandsons Will and John Moncrieff, his brother and sister-in-law, Hubert Mesman and Renee DeMeyer Mesman; his brother-in-law, Harry Mesman and his family; his nephews, the Bennetts and their families in France.
A private family mass will be held on Thursday, June 18.
In lieu of flowers, donations may be made to St. Paul's High School, Gonzaga Middle School, The Royal Winnipeg Ballet, or The Winnipeg Symphony Orchestra.