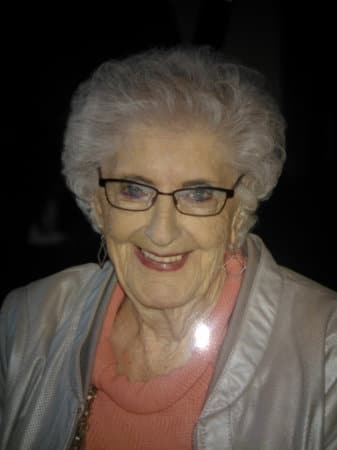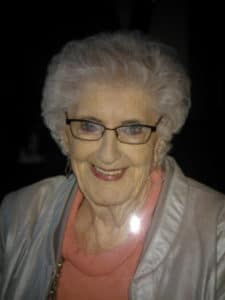 1921 – 2020 
On July 29th Gloria left us to be with her Lord. After 98 years on earth, she was eager to meet her saviour and to once again see her family members who had gone before her. She was pre-deceased by her parents, her 13 siblings, husband Gordon, son Billy and daughter Claudia. She is survived by son Mickey (Judy) and daughters Pat (Doug), Debbi (Larry) and Pam (Barry). Grandchildren: Rhonda (Neill), Lorinda (Brandon), Richelle (Marty), Colin, David, Renata, Ryan (Keahna) and Brennen and great Grandchildren Andrew, Nathan and Addison.  She is also survived by her special niece, Gloria.
In 1921 Gloria was born in Port Arthur Ontario to Fortunato and Emma Fero who had immigrated from Calabria Italy. She met her future husband Gordon in 1942 while working as "Rosie, the Riveter" assembling airplanes for the war effort. Gordon was a young, handsome soldier from North Battleford Saskatchewan. Gordon was soon welcomed into her large Italian family and loved the Sunday dinners and lively discussions. They were wed later that year. While serving oversees Gordon Jr (Mickey) was born. Shortly after Gordon's return from the war, he was diagnosed with tuberculosis. During this time, their family expanded to include Patricia. As a result of Gordon's illness, Gloria had to take on the responsibility of raising both children. A few years later, Debbi and Claudia were born. As life continued to improve, Billy and Pamela arrived.
Gloria was a hard-working mom who made a loving home, while raising her brood, cooking delicious meals and instilling high morals in her children. Besides all of this, she worked alongside Gordon in the family lighting business for thirty years. She was a fun-loving person who laughed easily and loved bridge, cribbage and a good game of poker with Billy and his friends. At age 97 she was still playing Bridge almost daily. Unquestionably, her favourite place was Las Vegas. Her favourite game show was Wheel of Fortune.
Gloria had a strong Christian faith. The family were faithful parishioners at St. Alphonsus and Gloria was a member of the Catholic Women's League (CWL) and Women's Aglow Fellowship. She will be dearly missed by all who knew her.
Thanks to Dr. Sobowale and the staff at Seven Oaks Hospital.
Due to the pandemic, there will be a private celebration of life. In lieu of flowers, donations can be made to the William T. Murphy Scholarship Fund at the University of Winnipeg.