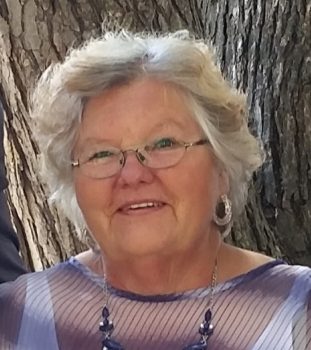 October 27, 1944 – July 15, 2020 
On July 15, 2020, Mom was called home to be with her Heavenly Father. Mom was a spiritual person with strong faith, and we take comfort in knowing she is now on her ultimate journey in life with Jesus, always knowing she will never truly leave our sides.
Evelyn Emilienne was born on October 27, 1944, at the Saint Boniface Hospital, and grew up in Lorette, Manitoba, on her parent's chicken farm. Mom was the oldest of nine children- Gilbert, Louise, Ben, Jeanette, Leonne, Camille, Simone, and Coco (Mark). As you can see, her parents were good, strong Catholics!  Her father died from a heart attack when she was only 13 years old, which left her, and the older siblings, to help their mother run the farm. She had a deep, loving connection with her father, and cherished their time together when she would accompany him into the big city to sell eggs to their customers. The end of their trip always resulted to a visit to the Timothy Eatons Store, where he would let her pick out some penny candy as a reward for her hard work.
Mom loved to tell us stories about growing up, and life on the farm, including how she and her siblings would delight in eating the fresh vegetables right out of the garden, mud and all, and how they had a goose on the farm, that would chase them, and anyone else foolish to get in his way, and try to bite them. Of course, as with all children during these times, mom had to walk miles to school, even in the winter, (although we're pretty sure it wasn't uphill, and we think she had shoes), to get to the town school, run by Catholic Nuns. She would laugh as she recounted her mischievous defiance at school, as she and her friends would use black eye liner to make a line down the back of their legs; tricking the teachers into thinking they were still wearing the mandatory stockings, even though it would be a hot, sweltering day- of course they had to remember to not cross their legs, or it would smear the eye liner.
Demonstrating our own grandmother's parenting skills, which rocked by the way, mom loved to tell us about when her two brothers, Gilbert and Ben, would get into trouble- probably getting too close to the river, and Meme would tell them to go find a long, thin stick, which she would peel the bark off, and test it's "swishing" ability in front of them, then simply place it by the back door…. in case she needed it.  We're not sure if that was simply a story of her youth, or a warning to us children.  Evelyn has THE most incredible family, from her bothers and sisters, to all her nieces and nephews, which have always provided our own families with unending love, laughter and so much happiness.
Leaving behind to cherish her memory are her children, Christopher (?,?,?), Gregory (Kari),       Jo-Ann (Emanuel- favourite, and only son-in-law) Machado, and her loving grandchildren, Sydney, Matthew, Joshua, Chantelle, and Thomas Csuk, Breanna and Julien Machado, and Taylor Csuk. Mom taught us how to be strong, resilient and believe in ourselves. She was very proud of her children, and her grandchildren and the goals they accomplished.  Jo-Ann achieved her dream of becoming a teacher, Greg owns a thriving, successful business, and Chris well, we're not sure about him.
We could tell mom anything, and she never judged. Often in the morning, after a night out with friends, we would tell her all the details of the shenanigans that our friends got into, without mentioning we partook in the said shenanigans, and she would look up from her cup of tea and simply say, "Really?", "Is that so?".  We are still not sure to this day if she was ignoring our morning- Ok, afternoon, banter, or she had found a devious way to get the goods on what her own children were up to, without having to grill us. She was brilliant in the fact that she would offer advice, or a cautionary note in reference to our friend's tales, when in reality she was giving us life lessons without directly scolding us. She trusted us to make mistakes in life, and was always there to guide us, and offer lots of love and hugs when our mistakes got the better of us. The worst punishment we could get was when she simply would not talk to us, out of her anger or disappointment, which would leave us broken hearted that we had caused that reaction.  
Mom loved to cook and could whip up the most delicious and ingenious meals out of nothing.  She mastered many dishes from all around the globe, and could go neck in neck with any Ukrainian or Polish Baba with her perogies.  A most cherished dish that will be missed, was her Tortiere, (French-Canadian meat pie), which was like gold when she made it at Christmas. Mama was also an avid baker, sharing and teaching her skills with so many kids, most importantly her grandchildren, whom hold those memories of baking with grandma, close to their hearts.  The one item that all three of her granddaughters wanted from her, was her old, taped up, Robin Hood Cookie cookbook that she had for over 50 years, which contained all our family favorites. Little do they know that Jo-Ann has absconded with it, never to be seen again.
Another passion of Evelyn's was tending to her garden, and planting an array of colorful flowers in her yard. She would plan out all the flowers she wished to plant in the winter, and would even draw sketches of where she wanted each type of flower to go.  She was so proud of her gardens, from year to year. We were gracious recipients of the abundance of vegetables she gave us from her garden.
 Evelyn's number one priority was taking care of her family, trying her best to provide her children with their needs, which we know was hard for a single mother.  As grandchildren came into the picture, mama embraced each one, and made them all feel special and honoured.  Each of her grandchildren hold such dear memories of her, and all probably think they were her all-time favourite, as she loved them, and paid such special attention to each one.  Evelyn always sacrificed her needs for the good of her family, often going without to ensure we had enough.  Mom had a quiet strength and was selfless, and altruistic. She always had a smile on her beautiful face, even when times were tough. She never complained and always looked to a better future.
Our home was a sanctuary, and even when we had so little, she never turned anyone away. Our friends were always welcomed in our home, as she always knew they needed comfort and a safe place to be, even if we didn't know it. We are proud and honored that so many of our friends think of her, and treated her as, their second mom.  Mrs. C, Mama Csuk, Mom… she treated our friends as she did us, and would give them a good, old-fashioned, "what for" if they were not living up to her standards, with respect and love, of course. She had a special place in her heart for our dear friend, and her Godson, Dale Melanson, whom she said was her favourite son, and that Chris and Greg can attest to. The eve of her death brought a final goodbye between them, as he comforted her, telling her that everything would be alright.
            Mom was ever calm and tranquil in her Catholic faith, rejoicing in all the gifts that God granted her, and accepting the challenges He knew she could handle.  Her character and spirit can best be shown through all the struggles she endured in her life. Mom had every right to cry and be mad, during her battles with heart disease, breast cancer, dementia, and recently the spread of cancer throughout her whole body, instead she loved and lived every moment she was given, saying, "Ah, everything will be just fine." Neither hard times, nor illness would rob her of the spectacular person, mother, grandmother and friend, of whom she was, and was always graceful until God called her home in the wee morning of July 15.
            Knowing mom is now walking beside Jesus, instead of Him having to carry her through her last days, brings the family peace and comfort.  
"I fought the good fight, I have finished the race, I have kept the faith." 2 Timothy 4:7
Go forward now, and let Peace reign over your life.
We will love you forever, and always Mama…. And will always call on you to guide us and nurture us through all the days of our lives.
XO XO XO
Love Chris, Greg and Jo-Ann