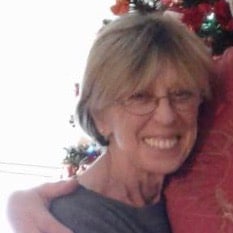 It is with overwhelming sadness that we announce the gentle passing of our mother, grandmother, sister, aunt and friend, Donna Turzak on September 12, 2019 holding her son Terry's hand and with her loving family by her side. Donna was born the eldest of four children to Fred and Helene Turczak.
Her memory will be forever cherished by her dearly loved son Terry; beautiful granddaughters Abby (Tyler) and Lily; their mother Barb; sister Judy (Jack); brothers Brian (Linda) and Ted (Sharon); nieces Kelly (Lindsay) and Dale; nephews Bari (Shannon) and Jeff (Stephanie); grand-nieces and nephew Grace, Taylor, Avery and Jack; and lifelong friends Eunice and Mo. Also missing her is her loyal dog, Lola. Donna had many cousins, co-workers and friends that meant the world to her.
Donna grew up in Elmwood and attended Elmwood High. Fresh out of school, Donna and her pals moved to Vancouver to enjoy life and spread their wings. After many years in Vancouver, she returned home and eventually settled in Transcona with her son where she remained for all these years. In the seventies, as a single mom and sole parent to her beloved son, Terry, she was the only woman in a sea of men at the annual hockey Dad's dinner. The following year, all moms were invited, much to Donna's delight. This was quintessential Donna.
Donna worked at Safeway, Eaton's and her beloved Hudson's Bay (Downtown) where she made many friends and many purchases. As fate would have it, in 1972, Grandma Helene pointed out a newspaper ad for a switchboard operator at CBC and the rest was history. Donna quickly rose through the ranks and eventually became an HR Consultant to the Manager of Human Resources for the Manitoba Region. When the Regional Director for Manitoba took on the added responsibility for the Alberta and Saskatchewan regions, Donna was her trusted second in command. Donna spent the last two years of her career at CBC in Toronto when she appointed Chief of Staff to the Vice-President of English Radio. She was involved in many ground-breaking initiatives at CBC. She retired in 2008. Throughout her accomplished career, Donna was never impressed by titles or power.  She was always guided by her evaluation of the person with whom she worked. She fought for the average employee and made great effort to ensure each person was treated fairly, even when the news was bad.  She thrived on complex problems and dedicated herself to protecting programming through rounds of punishing cuts.  At these and all times, Donna always had innovative strategies. Phrases like "let me convince you" and "let me think about it" were her mantras as she fashioned unique solutions for her bosses. She was a mentor, an advocate, and a brilliant, indispensable strategist. She loved her job and the people she worked with. When her family would tease her she would be quick to jokingly remind them of her "status" at CBC. It didn't help.
Donna was a complex, accomplished woman. Courageous. Unflinching. Incredibly funny and quick to laugh. Tough when needed. Always kind. Donna enjoyed her casino outings, trips to Grand Forks, Thief River Falls, and Disneyworld with her family and friends, as well as her bucket list trip to Europe with Eunice. She always referred to it as "the trip of a lifetime". Donna was a story-teller. Her tales were legendary and will be told for generations to come. Family gatherings will never be the same.
Very special thanks to Barb (for keeping your promise), Eunice and Jeff for your help, and to her loving family for surrounding her with love. She was grateful. The family also wishes to acknowledge the expertise and compassion of the Palliative Care Ward at St Boniface Hospital- particularly nurses Ashleigh, Colleen and Brittany.
A private family service has taken place. Online condolences may be sent to Voyage Funeral Home.
In lieu of flowers, please consider a donation to the Juvenile Diabetes Research Foundation (JDRF) or the Winnipeg Humane Society.
"Couldn't cook, didn't care…."
– Donna Turzak