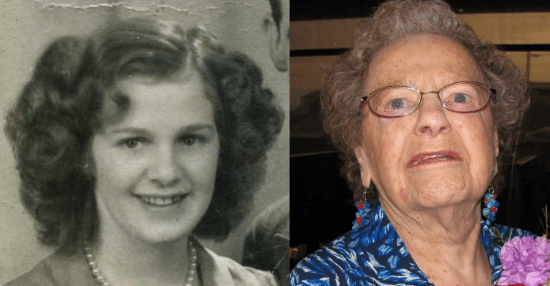 Constance departed this life peacefully in her sleep in the early hours of May 19, 2020. Mom was preceded by her husband of 60 years, Denis, her eldest grandson, Jamie, her parents Ada and Charles, sister Eva, and brothers Fred and Bob as well as numerous sisters- and brothers-in-law from both the Cave and DeGagne families.
Mom grew up in her old stomping grounds (as she liked to call it) of St. Boniface. She went to an all-girls Catholic school where she made many friends. She could still remember the names of the sisters that taught her. After completing grade 10 she went to work for Eaton's parceling packages in the mail order department.
Through a mutual friend Mom met our dad Denis. They were engaged for two years before they were married in 1945 (she often commented she was in no rush to get married).  Lynne was born in 1946 and Bill in 1949. They had a small house on Inkster Avenue. "It was so small you couldn't swing a dead cat!" Mom would say. In 1954, Deb made her appearance and that year our family moved into a new house on Chelsea Avenue. Many happy years were spent here.  In 1965 Denise arrived and our family was complete. On Chelsea Avenue we met lots of neighbours and many friendships were made over the years. Mom had her Monday afternoon bowling with the ladies and a bridge club on Wednesday evenings. With the Forgies living down the street there were many BBQ's, Christmas dinners, birthdays, and NYE parties.  We were always surrounded with family.
Mom travelled to England, Las Vegas, Ottawa, Edmonton, and various trips to Fargo, ND with her girls for their annual Shop 'til You Drop weekend. She enjoyed cooking big dinners for her family, knitting dish cloths for everyone and sewing all types of items, from curtains to dresses and doll bedding for the granddaughters.
Mom's faith was very important to her. She was a member of St. Stephen's for 50 years. She always said,  "God has never failed me."  In 1990, mom was diagnosed with breast cancer. Armed with her faith and our dad, she met the challenge head on. She had numerous rounds of cobalt and beat the disease. She remained cancer-free right up to her passing.
Mom had a full and beautiful life. She was a strong woman with lots of love to give.  She had many passions but her greatest passion was her children. She leaves behind to cherish her memory her daughters Lynne (Bill) Kowalchuk, Deb (Keith) Helander, and Denise (Doug) Gow, son Bill (Anne-Marie Davis), ten grandchildren, four step-grandchildren, eight great-grandchildren, her brother Bill (Yvonne) Cave, sisters-in-law Elsie Cave, Rolande (Alec) Carriere, Dolores Kline, Amy DeGagne, and many nieces and nephews.
The family would like to thank the staff at Simkin Center for the outstanding care they gave to Mom. We were blessed to have them looking after her.
Flowers are gratefully declined. Donations may be made the the Winnipeg Humane Society.
As per her wishes cremation has taken place and a service will be held at a later date.
"God bless you, good night, Mom. We love you and will miss you so xo"